Bernie Bloomberg: Real Estate Marketing Is a Whole Process, Not Just an Event
It is something that must be done every day to ensure the right stream of buyer activity is created to sell a home.
Your home is a product in the buyer's minds until they buy it and make it their home.
Homes must be marketed professionally, strategically and to the fullest without sparing time and money in order to sell higher and faster.
After all, the competition of very similar homes in any given area is just too big.
Real Estate Marketing Is A Process, Not An Event like a little ad on Craigslist or in the paper.
In today's internet-driven world where 90% of all buyers check the internet first when searching for a property good Realtors have a strong internet presence which includes all popular social media channels and constant blogging. Otherwise your property would not be seen. After all, every property competes with so many similar properties on the market. Most sellers do not realize this. They believe their property is the only 2 bedroom condo with a view in town, for example.
A big mistake we often see is that home sellers listen to agent #1's complete presentation, and then with agent #2 they only want to hear a little (they feel like they already know most of it from agent #1). The problem is, you are interviewing the agents, not the other way around. You need to ensure that you hear the complete presentation from every single agent you interview so that you find the big differences between them and to ensure that the agents themselves are prepared to show you a COMPLETE real estate marketing plan.
Just like in the image on the right, the typical agent does nothing to market your home once it has been put on the MLS. These agents BELIEVE that this is the full scope of a real estate marketing plan. And that is why so many homes fail to sell within the first listing period which is a lack of a thorough real estate marketing program that produces multiple buyers and top dollars for the home seller. In addition, many sellers agents act against sellers best interests by not co-operating with buyers agents. This way they eliminate the majority of all prospective buyers just for the sake of making double the commission if they sell at all. How bad is this?
There are just a few Realtors in Vancouver who have a huge marketing program and provide written sales and performance guarantees. For example, if they do not sell within the first two months they pay the seller $1,000 in cash. In other words if they do not perform as outlined in the marketing plan they would pay self-imposed penalties to the seller. Bernie Bloomberg is one of those few.
Remember, real estate marketing is a process, not an event.
There are currently approx. 10,000+ properties offered for sale in Vancouver.

Every month hundreds of listings expire on the MLS without having seen one single serious buyer.

Most probable reason: no or bad marketing.

The moment a property hits the market it becomes a product. And products must be marketed.

Postings on trees or little ads on little Craigslist are just a flash in the pan and rather detrimental to the cause. Would you advertise your red Ferrari on Craigslist too?
Every day there are dozens of similar homes coming onto the market. Many of them are staged or nicely dressed up. This is your competition.
If you hire a Realtor who actively works a marketing plan every single day, then your home takes advantage of the process already in place. It is why a home should sell in 4 to 21 days, not months or years after you hire somebody to sell your home.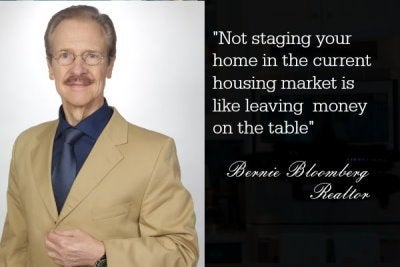 My associates play an important role in our daily marketing processes. We have the buyers on hand for your home when you are ready to sell. When you decide to move, we would like to interview for the job of selling your home. All you have to do is drop me a note or call and we'll be in touch right away.
Bernie Bloomberg - Real Estate Advisor - Real Estate Marketing Expert
realtorbloomberg@gmail.com - 778-888-6001
has successfully built and sold hundreds of homes as a Realtor® and developer for over 40 years.
Bernie studied real estate marketing inc. social media, is a real estate investment consultant and local
market expert. He is a constant blogger with content that focuses on real estate analytics and providing his clients with a tactical advantage in today's challenging market. He has over 10,000 followers, friends and connections on social media.
Selling Higher and Faster
That's Our Motto
We have the competence, the clients and our huge marketing program